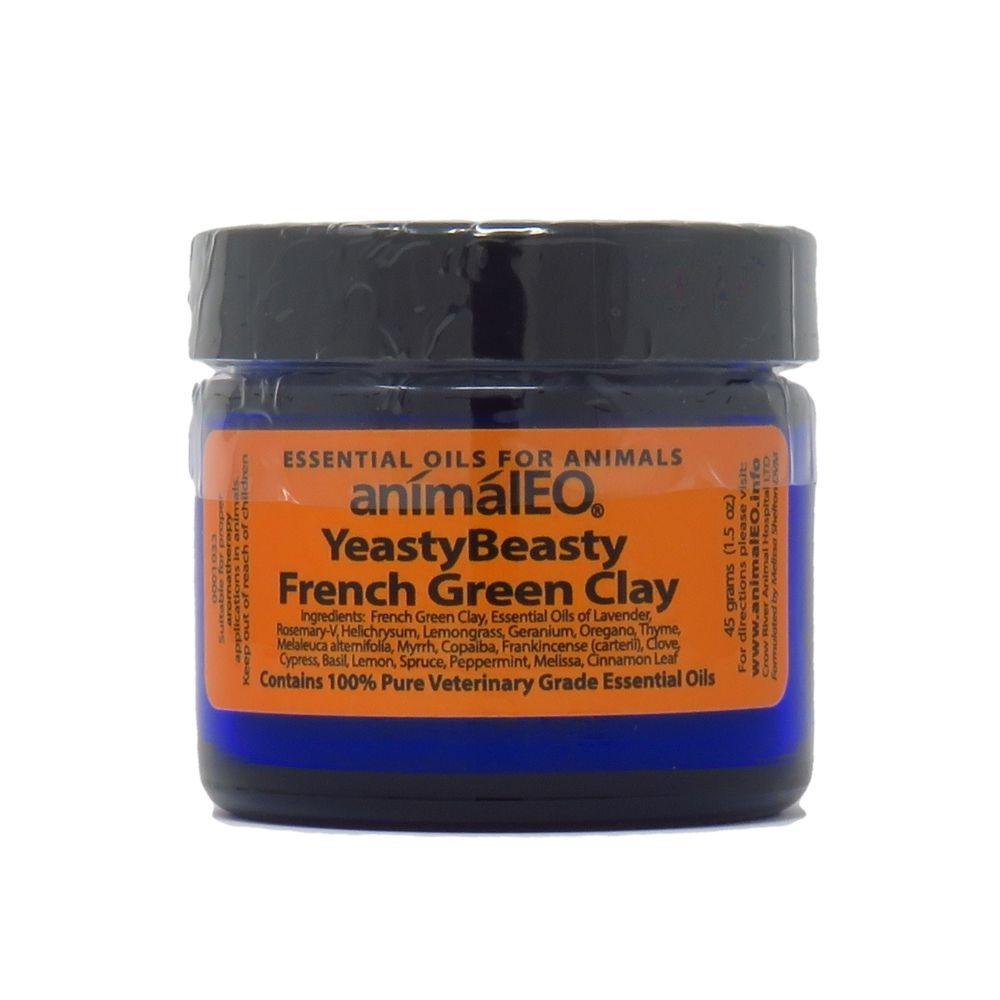 French Green Clay with Yeasty Beasty Essential Oil Blend by animalEO
---
In stock, ready to ship

Inventory on the way
French green clay mixed with animalEO YeastyBeasty essential oil blend to dry yeasty skin, soothe skin irritation, heal skin lesions and provide strong antibacterial and anti-fungal support. 
1.5 oz jar in cobalt blue glass
Ingredients
French green clay, essential oils of Lavender (Lavandula angustifolia), Rosemary Verbenone Chemotype (Rosmarinus officinalis), Helichrysum (H. italicum), Lemongrass (Cymbopogon flexuosus), Geranium (Pelargonium graveolens), Oregano (Origanum vulgare), Thyme (Thymus vulgaris), Melaleuca alternifolia, Myrrh (Commiphora myrrha), Copaiba (Copaifera officinalis), Frankincense (Boswellia carterii), Clove (Eugenia caryophyllata), Cypress (Cupressus sempervirens), Basil (Ocimum basilicum), Lemon (Citrus limonum), Black Spruce (Picea mariana), Peppermint (Mentha piperita), Melissa (Melissa officinalis), Cinnamon Leaf (Cinnamomum zeylanica).
Instructions
The green clay powder with Yeasty Beasty essential oil blend is intended to be used dry and applied with a clean make-up brush. 
Get a dusting of the powder on the brush, then dust on the animal avoiding the eye area. 
You can dust inside the ears, in between toes, around vulvar folds, around an anus, inside lip folds (not with the same brush used to apply around the anus please!), in armpits, in groin areas, on bellies, on lick granulomas, at cast changes, under bandages...you name it! 
Apply the dry powder as often as needed - usually once to twice a day.  If a wound is extra weepy and moist, re-apply as soon as there appears to be moisture present again.  In the beginning, this may more often than three times a day - and that is okay.  After a day or two, you will usually have to apply it less frequently.
Notes:
Please use caution to avoid the eye area. 
Do not mix with water. It is intended to be applied dry, not as a mask. 
Discontinue use if skin becomes "too dry".
Stop use immediately if you see any skin reactions.
4-Legger complies with animalEO's no refund or return policy on the sale of all animalEO products.