A Reflection on My Breast Cancer Journey that Started a Big Change with Dog Grooming Products
As I flew back home from the American Holistic Veterinary Conference last week, I couldn't help but notice how Delta had gone the extra mile to create ways to emphasize Breast Cancer Awareness Month. 
Breast cancer is still the most common cancer found in women, regardless of race or ethnicity.
Everything in the airports and on the flights were awash in pink, from the employee  shirts, the cups and napkins, even to the package of shortbread - it was everywhere!
Surprisingly, I found myself deeply moved by this sea of pink.
It led me to reflect on my own journey with breast cancer, which began ten years ago.
It struck me that if I had never been diagnosed with breast cancer, I wouldn't be on this flight, heading back after discussing holistic pet shampoo ingredients and 4-Legger with these amazing veterinarians.
Back in 2016, we wrote a blog post titled "How Breast Cancer Made Me a Better Dog Mom."
In the accompanying image, I had just completed my breast cancer treatment, and my hair had just started to grow back. In my arms was our dear Tobie, who sadly passed away in 2020.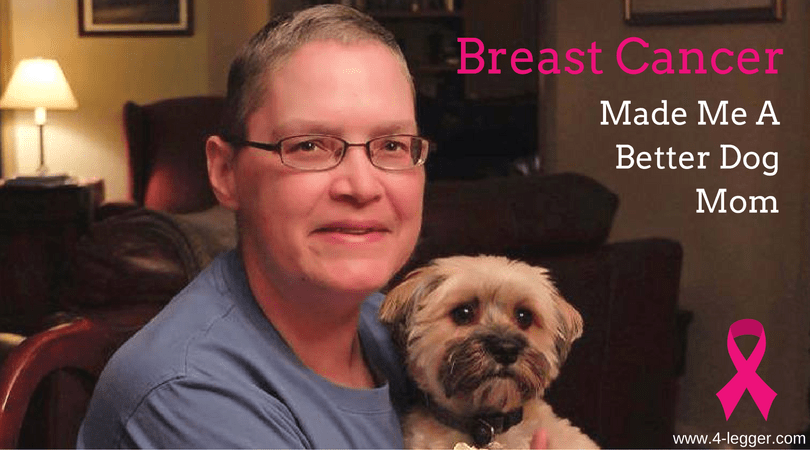 This journey has been nothing short of incredible!  It's impossible to convey the full range of emotions both high and low that have been a part of my journey with breast cancer.  If you're a survivor like I'm grateful to be, you know exactly what I mean.
I've gained invaluable insights and am profoundly grateful for the opportunity to advocate for safer, cleaner ingredients for pet products in the grooming industry.
Last week, I had the privilege of sharing the Pet Shampoo Ingredient Database with holistic veterinarians and other pet professionals at the AHVMA event to underscore the crucial role of ingredients in pet shampoo. It's important to understand that these ingredients accumulate in your pets' bodies over time, even though they get rinsed off. This build-up of toxicity from harmful ingredients is a leading cause of skin cancer in dogs.
The Pet Shampoo Ingredient Database is a vital resource for pet professionals and concerned pet owners alike. It serves as a comprehensive repository of information on the ingredients commonly found in pet shampoos and there is nothing like it anywhere on the internet. This database plays a crucial role in educating individuals about the importance of choosing safe and non-toxic ingredients for their beloved pets. By highlighting the potential health risks associated with harmful substances and emphasizing the long-term health benefits of using cleaner ingredients, the Pet Shampoo Ingredient Database empowers pet parents to make informed choices and ensures the well-being of their furry companions. We've condensed years of research into a user-friendly, easily understood and comprehensive site for the sole purpose of putting a useful tool into the hands of every pet parent who is truly interested in choosing the safest products for their pets.
The current rate of cancer in dogs is 5x that of humans - meaning for every human that is diagnosed with cancer, 5 dogs are diagnosed. Skin cancer is the #1 cancer diagnosis. 
Why? 
Environmental toxins, such as those found in many dog shampoos and other grooming products, are a significant contributor to this issue.  In fact, only 5% of canine cancer is genetic.  The overwhelming driver in these cancer rates is environmental toxins which account for 95%.  This is NOT acceptable.
Using genuinely safe and non-toxic ingredients is vital for the long-term well-being of your beloved pets.
As we continue to raise awareness for breast cancer this month and proudly wear our pink, I urge you to consider the ingredients in your own products as well.
Making the choice to use safer ingredients for your pets is also a benefit to yourself but primarily to your furry companions since they have no choice and depend on their persons to make safe choices for them. Doing so creates a healthier and happier life for them and you. 
And yes, I use 4-Legger shampoo on myself. It is in foamer bottles at every sink in my house for handsoap and the only product (along with our Apple Cider Vinegar Rinse) that is in my shower!  
I am so thankful to be on this mission to help improve the health of our faithful and beloved pets.  It's not at all what I ever envisioned myself doing but it is exactly the path that was laid out for me to follow.  It's with a profound sense of gratitude and joy that we  all continue on together to raise the bar of health in our own lives and those we love including our 4-legged kids.
Melissa 
---